This post may contain affiliate links, meaning I may receive a small commission if you make a purchase through any links that you click. This post may also contain sponsored links.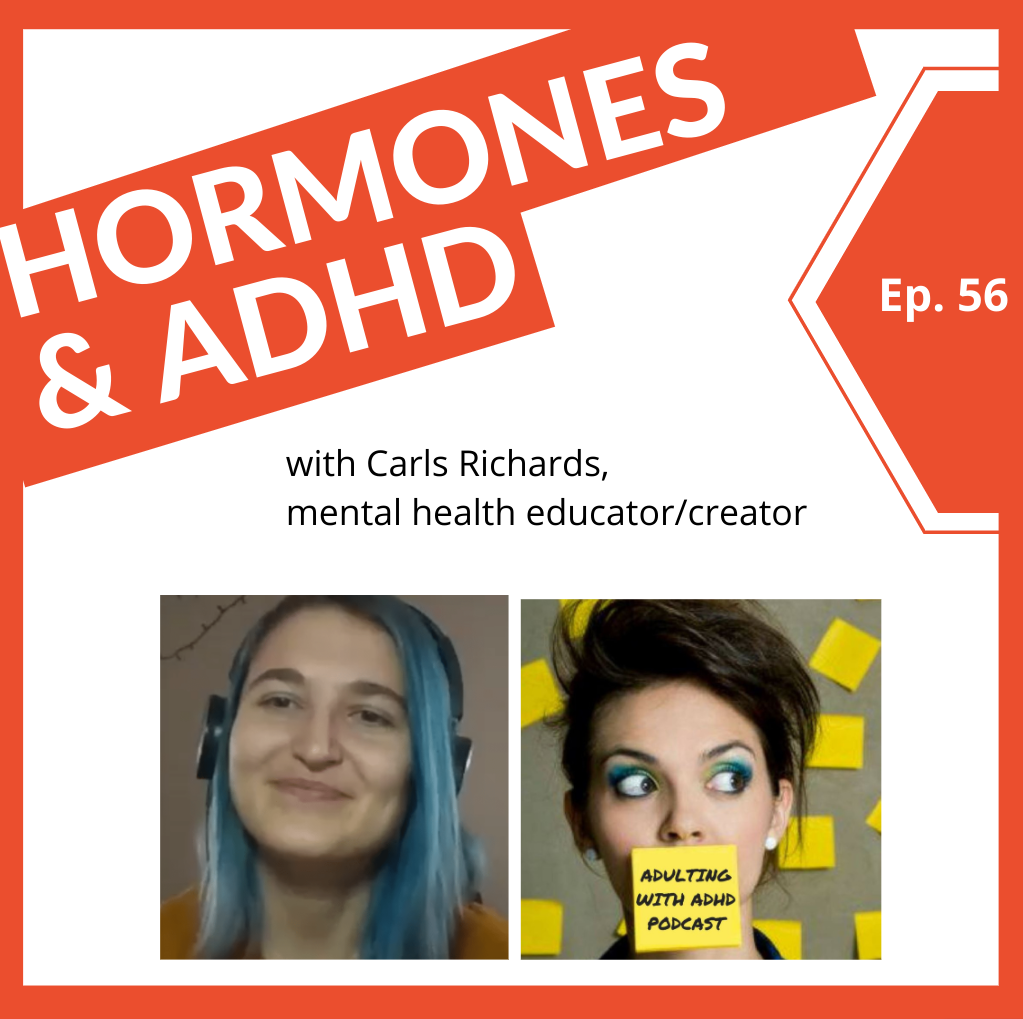 Why Don't ADHD Women Know More About The Hormonal Impact?
Mental health educator/creator Carls Richard makes phenomenal TikToks about #ADHD. Their gut-wrenching post about ADHD and hormones and WHY we aren't talking about it more resonated with 125K+ people. We talk about it.
If you like this interview, please subscribe to the podcast!
Why Don't ADHD Women Know More About The Hormonal Impact?
About Carls
Behind The TikTok
From Research to Mainstream
Carls' Diagnosis Story
Sarah
Awesome. Awesome. Okay. This is the adulting with ADHD podcast, self empowerment for women with ADHD. Her fans know her as ADH adult. And she's also known as Carlos Richards. Welcome to the podcast. How's it going?
Carls
Yeah. How are you?
Sarah
I'm great. I'm great. I am so excited to have you on here. And just to set things up a little bit. You're a tech talker. You're a psychology student. And you also you have a couple of degrees in neuroscience, right?

About Carls
Carls
Mm hmm. Yeah. So I have a Bachelors of Science in neuroscience and a Masters of Science in neuroscience. And then I have a bachelor's in psychology and I'm working on my Master's in counseling psychology,
Sarah
that that's a lot. That's a lot of knowledge. And she shows her knowledge on her TED Talk, which is how I came across came across you Um, so yeah, I was gonna set things up a little bit about why we're here and just kind of how I came across you. But one of I was going through my followers to seeing who was around on Tick tock, and someone do edit you talking about hormones. And a lot of us know that with ADHD and hormones, I shouldn't say a lot of us know, some of us have found out the hard way that actually relationship between those things. And so, um, you made a really hard hitting tic Tock for me, because I had just kind of gone through the emotions you were having on this video. And if you're okay with that, I'll share the audio and posted it. Yeah, so um, why don't you tell us a little about that video and what got you there. And

Behind The TikTok
Carls
so it was kind of it was one of those days where all of the all of the things just started to link together and make sense. And I was just so completely overwhelmed by it that I started crying. And I was like, people need to know this. So I made the video of me while I was crying. And my intention was to save it as a draft and remake it when I wasn't crying later. But then I was like, Ah, you know what, EFF it. I'm gonna post the crying version because people seem to like genuine moments, especially on tik tok. But yeah, so what led me to that moment was, my mom had always told me that her mental health was the best when she was pregnant with me. And I had I had come to her with concerns before about like, Oh, I'm super worried about my mental health if I ever choose to have children, because I hear that it can change. And she said, Oh, don't worry about it. When I was pregnant with you, it was the best time of my life. So I always kind of had that in the back of my mind. And then I always knew that, like, my mental health, and my ADHD symptoms get worse, right before my period, like super bad. And my mom's ADHD symptoms have been getting worse through menopause. And then I saw a tick tock, I think, talking about estrogen and ADHD, or how ADHD fluctuates with hormones, like ages ago, but didn't really think much about it. And then that day, I was like, Oh, wait a second. If, if ADHD fluctuates with hormones, then that could explain all of these things that I was thinking about, like my mom's pregnancy, and her menopause and my hormonal fluctuations. So then I started Googling it. And I was like, there's tons of research on how estrogen affects dopamine. And dopamine is one of the main things that we're interested in when we talk about ADHD. So it's kind of like this moment of all of the all of the puzzle pieces connecting for me and me being overwhelmed by the fact that I had never heard about this and any of my schooling, like, I've been going to school for mental health for almost like nine years now, I think. And I didn't hear about any of that. So I was just overwhelmed with all of the puzzle pieces falling into place. And the fact that I had to learn about it on Tick Tock.
Sarah
And this is the funniest part. But it's not funny at all. I Wheatley, hundred percent when I saw that video, because I had just come out of the same process. And I was thinking of all the things I was thinking about puberty, like, could you imagine if you
Carls
knew at puberty, oh, my God, my world would have been so different.
Sarah
Yeah, yeah. So Oh, my gosh, that's, that's crazy. So, um, I did want to talk a bit about that gap in literature. Because I, I don't have a lot of, I don't have any training. But I did take an introductory course, into ADHD coaching. And I was working on a content piece about estrogen and whatnot. I did a Ctrl F and an entire book. I found like one sentence with the word estrogen in it. And that's when I had my moment. And so what why don't you speak to that a little bit about this gap in literature? I I'm so curious where where it comes from?

From Research To Mainstream
Carls
Yeah. So I'll start off by saying like, I'm by no means like, like an expert expert in this, like, I haven't been studying this, like primary research or anything. But in my research, I've managed to find quite a lot of studies on estrogen affecting dopamine, like, got as far back as 20 years ago, I easily found studies on estrogen and dopamine. So we've known this, we've known that estrogen affects dopamine for years. And we know that dopamine is goes is a part of ADHD for years. So why hasn't the gap seems to be that that information has not made it into like undergraduate classes or books on ADHD or anything like that, like the the knowledge just hasn't been translated down to the next level, yet. And that and then the big gap that I found that really blew my mind is, so when I found out Okay, so estrogen affects dopamine. So what about birth control? And that's what everyone was asking on my post is well, what about birth control? And what about hormonal treatments? So of any kind? And I, I can't find I couldn't find any studies on birth control affecting ADHD. I couldn't find a single one. And I asked my followers to try and help me to I reached out to some of my like, academic peers to see like, Am I just not googling the right terms? And am I not searching the right scientific databases for this? Am I using the wrong keywords, but I know no one that I talked to has been able to find a birth control and ADHD study. And that's the wild because to me, that would be the next logical step in the researches. Okay, well, now we know estrogen affects dopamine. So let's find out if birth control is affecting people's ADHD symptoms.
Sarah
Absolutely. I, I completely agree with you. And a lot of other things come out of the woodwork for me as well. So it was what about birth control? Also? What about pcls?
Carls
Yeah,
Sarah
that's the other one. And then I started reading about that. And then I got really upset all over again, because it's like, are you effing kidding me? How did I, I learned on Twitter about PC OS and the mental health relationship. I'm getting my information from Twitter and techtalk.
Yeah.
Sarah
Yeah. So I want to go back to when you're looking through studies as a lay person. How can I? And this is a loaded loaded question, you can give me the post answer. But how do I become a more discerning patient? When I'm researching stuff like this? Are there any just think basic things I can, you know, pitfalls I can avoid when I'm trying to research all this stuff?
Carls
Yeah, so when you're looking for accurate information, you want to try and get as close to the source as possible. Like if you can, if you the ideal situation would be if you could talk to the scientist who did the study, but obviously, that's not always an option. So you want to try and look for primary research, which is the the journal articles that scientists write up that summarizes the study that they did. The next step down from that would be like review articles, or meta analyses, where they're looking at a bunch of different articles and drawing conclusions like that. And then you go into things like textbooks and stuff like that. And every time you go away further away from that primary source, the information gets slightly twisted and slightly skewed. So the farther away from the primary source you are, the less reliable that information is. So that means that websites like even Wikipedia and stuff are sometimes not that accurate, just because of the way that knowledge gets lost in translation between so many different sources.
Sarah
Yeah, like, like telephone kinda, exactly.
Yeah.
Sarah
So when I'm, like saying, I'm looking at the actual seed, like the Oji information, you know, um, are there any rules of thumb on like, test size, like, when you're looking at how many subjects are being tested? Because I, I've shared things before, and then I have felt really silly afterwards, when people have pointed out, well, this is just like a one off study with a very small test pool? Or is there a rule of thumb there? Or is it just kind of?
Carls
Yeah, so I mean, a larger sample size is always better. And also, repetition is super important. So if you can find multiple studies that are coming to the same conclusion, that is super, super important. But that doesn't mean that just because you find a study with a smaller sample size, that that's completely irrelevant. You just have to kind of manage your expectations, you have to say, Oh, the study has a small sample size, and it's only been done once. And it's in a very specific population of people. You know, maybe it's only done on men, you know, like most science studies. Yeah. And, and you have to manage your expectations that way. So you have to be like, okay, so because of these limitations, then maybe we're just hinting at what the real truth is. Or maybe this is just giving us a starting point for more research.
Sarah
Yeah, excellent. And so I'm gonna link in the show notes to a few of your videos, because I did notice you talked a little bit about blind studies and that kind of stuff. But also, I wanted to talk a little bit about your own ADHD diagnosis, and we talked about how your hormones have impacted you, but how did you even when and how did you even get to your diagnosis?

Carls' Diagnosis Story
Carls
Yeah, so I was 20. It was during University and it was because my friends were basically telling me they thought I had ADHD. We my group of high school friends in early University, we've all kind of lost touch now but that group of friends We had one friend that had ADHD and was diagnosed and was on medication. And when we hung out with him at night when his meds would wear off, and he would start to be his kind of like kooky ADHD self. Everyone kind of commented like, hey, Carla, you act a lot like Ben. And I was like, God, should I ever, and I never thought about much about it for years. And then when I got to university, and things got to be more tough than high school. I was like, Okay, let's, let's humor them. And I went to my school's disability office, and I said, Hey, what do I do if I think I have ADHD? And they gave me a pre screening questionnaire. And then I filled that out and gave it back? And they said, well, it's probably that. So they referred me to a psychologist. And then I did the multiple sessions of hour long testing, I did a full psycho educational assessment and and it came back that that's what I was. So that's how I found out.
Sarah
You're like, ding, ding, ding. I'm Johnny. Yeah, yeah, that's, that's pretty crazy. So where, where can listeners of this episode find you out in the wild? Where Where are you at?

Where To Find Carls
Carls
So on Tick tock, and Instagram and Patreon, all ADH adult. And then I also in my in my BIOS, have a link tree with other fun links that you can look up and find me and
Sarah
awesome and how, how can we support you? And how can we help this process of like trickling this down to the books and stuff? I mean, I know we're all just lay people here. But what makes that change happen? And how can we support you in your messaging?
Carls
I mean, I think that just just talking about science is going to change things. Because already just the fact that we're finding out about hormones and ADHD on tik tok on Twitter, wherever you're finding out about it, share that information. Because you never know who's listening. I'm hoping that somebody sees my tic tocs, who is a graduate student and is looking for a thesis topic. And we'll do those studies on ADHD and birth control. Because it's kind of a it's a collaborative thing. Everyone's trying to work together to figure out the world.
Sarah
Yeah, I am. To quote another Tick Tock of yours. I, the one you were talking about where it's like, it's like exploring space. Yeah. I love that analogy so much. Because when I was first diagnosed, I thought there was this just very, like, straightforward black and white, this is what's going on. And I was going to figure it out. And that would be it. And now it's like, I mean that that space analogy is just so spot on. So it's just like,
Carls
it's, I think that's really common, too. Because before I before I started studying science and university, I had this idea of like, science was the, you know, the black and white the right and wrong, the answer of the way the world is or isn't, but it's, it's not like that. It's, it's all complicated. And there's lots of different variables and, and we're just starting to figure out how things are working. And the more that we learn, the more that we find out, we don't know. So every question we answer opens up another like 30 million different questions.
Sarah
Exactly. That's where I'm at in the PC. Oh, x galaxy right now. It's like what's going on? Well, Carlos, thank you so much for being on this episode. And it's gonna be so valuable to our listeners. So I really appreciate you being here.
Carls
Thank you so much for having me.
Sarah
Take care. Have a good one. You too.